ACC Tournament Power Rankings: "MAD MEN" Edition

You might remember the Power Rankings we did last year. Every week we'd poll the Rafters contributors and – miraculously – every week we'd find a way to rank the teams in which UNC could be No. 1. As much fun as that was, it was pretty unrealistic in what was Roy Williams' worst season as head coach since his very first one at Kansas. Turns out this year we could have legitimately ranked the Heels near the top – at least toward the end of the season – but instead will bring you just one Power Rankings prior to the ACC tourney.
You might remember our most popular set of rankings, the LOST Edition, in which we compared each team to a character on the television series. Well, we're so creative that we've decided to do it again with another show – MAD MEN. Sam Wineka and Benn Wineka have spent hours watching both the show and ACC basketball while sacrificing social lives to bring you this pleasure. Enjoy.
*SPOILER ALERT*
1. UNC 24-6 (14-2) – Don Draper: The show's hero with a dark past – like Carolina's 2009-'10 season. Nobody around him really knows who Don is, but they know he's the best at what he does. Carolina seemed to be searching for an identity at times this season as well. Is it a team that pounds the post? Is it a team that looks to push the fast break? At this point in both the show and the season, Don and Carolina respectively both seem to be headed in the right direction in defining themselves positively, maintaining that hero status. Did you really think we'd pick another team to be Don?
2. Duke 27-4 (13-3) – Pete Campbell: A lot like Coach K's teams – unfortunately – Pete's marriage is the most stable on the show. While Don and Roger go through tumultuous ups and downs (see: UNC & State), Pete (and his snide little bitch face) is steady in his commitment to Trudy, or in K's case to winning games. If you watch the show, which ACC college do you think Pete Campbell would have most likely gone to?  ………..That's what I thought.
3. Florida State 21-9 (11-5) – Megan: She looks good, like FSU does with Chris Singleton. She also comes in the clutch for Don in season four, comforting Sally when Faye Miller couldn't handle it. Florida State came in the clutch for UNC (a.k.a. Don) when it beat Duke this year, allowing UNC to be able to surpass the Devils for the regular-season championship. But Don, is this really who you want to spend your life with?
4. Boston College 19-11 (9-7) – Layne Pryce: BC's playing a new style of ball under first-year coach Steve Donahue. Layne's foreign (see: British) sensibilities sometimes would ruffle feathers at Sterling, Cooper, Draper, Pryce as well – so both Layne and BC had some adjustments to make. It's also true that of late, BC and Layne have both been getting no respect. Losing to Harvard three years in a row will do that. So will telling your father you're not coming back to Britain because you want to stay with your cocktail waitress girlfriend. Nonetheless BC is on a three-game win streak and gets the nod above Clemson here, but something tells us this will be no more lasting that the fun Layne enjoyed last season during his night on the town with Don.
5. Clemson 20-10 (9-7) – Duck Phillips: Every time you think Clemson's going to turn it around, they find a way to go down in flames. Duck seems to be getting on his feet, and then he starts hitting the sauce again. Clemson is apparently always on the sauce when it visits Chapel Hill, but this year you thought, maybe, just maybe they were about to do something right when the Heels visited Littlejohn Coliseum. Sort of like how when you saw Duck at the Clios this past season, you thought, "Maybe he's back on top of his game?" Clemson almost knocked off the Heels, and then the wheels really came off when they lost to N.C. State the next game. But in a bad ACC they still get the No. 5 spot.
6. Virginia Tech 19-10 (9-7) – Betty Francis: Ah, Betty. What a perfect match for Seth Greenberg and the Hokies. At first glance you think, wow, she's really attractive — that's before you realize how many issues she has. Tech also looked really attractive at the beginning of the season, picked to finish second in the ACC, then we saw all the issues they had — able to beat Duke but then immediately lose to two lesser teams and limp into the postseason. Betty, when still married to Don, was constantly upset because she believed she didn't get enough respect from him. Greenberg hasn't been so quiet about his thoughts that the Hokies don't get enough respect from the selection committee. Looks like there's not enough respect to go around in this league. Anyway, we feel sort of the same way about both Betty and Greenberg: Quit whining and do something productive before we pay attention to you.
7. Virginia 16-14 (7-9) – Freddy Rumsen: Virginia has been a laughing stock the past few years, much like Freddy was when he was alcoholic, both pissing themselves when it came time for the big meeting (or big game.) However, it seems both are beginning to turn it around. Freddy's going to AA, and UVA is steadily improving under Tony Bennett.
8. Miami 18-13 (6-10) – Sally Draper: Miami's young team has shown signs that it might be good soon, losing a ton of games by only a few points this year. Sally also at times seems like she's ready to grow up and mature, but like Miami's underclassmen, she's still just a silly little girl.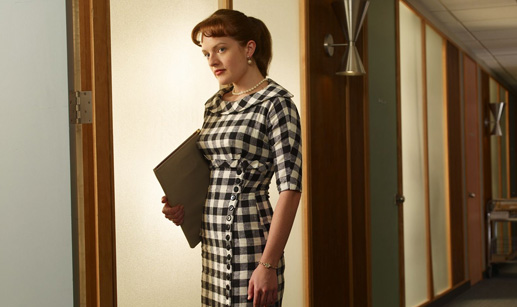 9. Maryland 18-13 (7-9) – Peggy Olson: Interesting one here. Maryland has proven itself to be a basketball power under Gary Williams – it won a title in 2002 after all and consistently knocks off teams more talented than itself. Peggy has great potential as well, and has proven herself with ideas like her initial thoughts on the Glo Coat campaign. She just can't help but wonder if she's destined for bigger and better things. Doesn't it kind of feel like her mentor, Don, is holding her back? We have a similar gripe with G-dub. He's not getting the most out of his immediate recruiting area, and it's holding UMD back. In the past five years, Williams has missed out on Kevin Durant, Michael Beasley, Ty Lawson, Scottie Reynolds and Kendall Marshall. Yeah, I know he got Greivis Vasquez out of the D.C. metro area, but c'mon. He's got to do better on his home turf. The three-game losing streak doesn't help you in the Rafters' rankings either.
10. N.C. State 15-15 (5-11) – Roger Sterling: He's a member of the old guard of advertising, much like State (and its two national titles) could be considered old guard among its ACC peers. Even in the most serious situations, Roger usually provides some comic relief. Sidney Lowe's red jacket, anyone?
11. Georgia Tech 13-17 (5-11) – Joan Harris: Just like Joan, Georgia Tech can be the sexy redhead of the ACC, like that time Tech managed to beat Carolina by 20 in Atlanta. Then there's also the times that Joan (Ga. Tech) can just be a pushover, letting the men in her life run all over her. Tech's mostly been a pushover this season and similarly can't keep its men around for too long, as all its best players usually bolt to the NBA after a season or two.
12. Wake Forest 8-23 (1-15) – That British guy who gets his foot run over by the John Deere mower: Wake just seems to get decimated by early departures every year, and this year is no different. It's reeling from the loss of some of its best players from last year's tournament team and also it's missing its foot (Dino Guadio).