UNC vs. Minnesota Preview
The Heels' solid offensive performance against Hofstra couldn't have come at a better time for a team that has recently struggled putting the ball in the basket. Carolina will need to score to be able to keep up with a Minnesota Golden Gophers squad that just dropped 95 on a very good Western Kentucky team last night. Leading the way for Minnie was the namesake (and offspring) of a former Tar Heel tormenter, Ralph Sampson.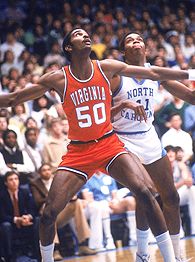 At 6'11", Ralph Sampson III (at right) isn't quite as imposing as his 7'4″ dad (above), but he can still dominate the paint if the defense allows him. The Western Kentucky Hilltoppers don't boast great size with only two players on the roster over 6'7″. To top it off, one of those players — 6'11" Teeng Akol — didn't play a minute because he's sitting this year out due to transfer rules. This might explain how Sampson was able to tally his 22pts, 8 rebs and 7 blks. He should have a tougher time against Zeller and Henson.
The Gophers rely heavily on their starting five. In the win over Western Kentucky, two starters logged 32 minutes, and the rest logged more. With Roy Williams' uptempo offense, this could prove to be a burden. The Heels should look to keep subbing in fresh legs.
One glaring truth that stuck out last night was that Carolina's free throw shooting has not improved. It might be worse. When you shoot better from three than you do from the line, it is not a good thing. Against Minnesota, UNC will have to be better.
Tubby Smith is a good coach. He'll have the Gophers ready.
For the Tar Heels to get the W, the key tonight is for the team to continue its excellent shot selection from the Hofstra game. The ball movement the Heels displayed was something that hasn't been seen since 2009. The reason they shot such a high percentage was because they found great shots instead of forcing them. This game won't be the runaway that Hofstra was, but if Carolina takes care of the ball it's not inconceivable that they could win by 15
Prediction: UNC 90, Minnesota 78